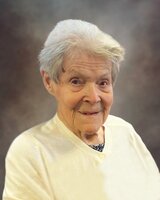 Barbara Cunning
After celebrating 100 years of life in February, with sadness we announce the passing of Barbara Cunning (nee Bangs) on September 26, 2022. Predeceased by her beloved husband of almost 65 years Bill Cunning. Devoted mother to Julie Lower (John) of Prince Edward County and Dale MacMillan (Ewen) of Orleans. Dearly loved grandmother of John (Carolyn), Darlene (Ryan), Susan, Conall, Dexter (Laura) and Tavis. Great-grandmother of Connor, Quinn, Violet and Hailey. Predeceased by her seven brothers and sisters as well as their spouses and Cunning in-laws.
Family and friends will be welcomed at a celebration of life in the Spring 2023.
In memory of Barbara, a donation to the War Amputations Canada or to a charity of your choice would be appreciated.
To express your condolences or to make a donation, please click on the tab on the left side of the page.
A Tree of Remembrance for Barbara will be planted in the McAlpine Forever Forest, Vankleek Hill.