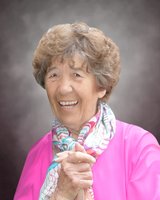 Emma "Emmi" Spreiter
Spreiter, Emmi
Emmi was born December 8th, 1932 in Switzerland to Emma and Christian Spreiter. She was the oldest of 5 children: Christian, Leni, Peter, and Walter. In her own words her family was "poor but happy".
She was a caring, compassionate, and outgoing mother, grandmother, great grandmother, and friend.
After graduating from high school, she worked different jobs until she was accepted into the Nursing College in 1953 and received her diploma as a Psychiatric Nurse in 1957. Emmi worked in the field until she married Toni Walz in 1960. They adopted two sons, Thomas (deceased 2010) and Christian Walz. From 1974 until her retirement in 1994, she worked part time as an Occupational Therapist at a Psychiatric Clinic in Oetwil a.S., Switzerland. She made many crafts with her patients and sold the items at craft fairs she organized as a fundraiser for her department.
In February 1995 she followed Christian and Shigi Walz and emigrated to Canada. From then on, she tended to her garden, looked after the grandchildren Vivienne, Marc, and Phil, and continued doing beautiful crafts like silk scarves, dolls, Christmas ornaments and many other items which she sold at local craft fairs. As "Offroad Granny" she spent many hours driving the grandkids to lessons, sports and friends' houses. Her great grandkids are Mason, Raelynn and Ruby.
Emmi was a member of the Horticultural Society, Meals on Wheels, the German church service group, Club "Alte Heimat", Line Dancing and a Swiss "Jass" Club.
She always enjoyed singing, loved cats, and passionately watched WWE wrestling (although no one is supposed to know that).
Emmi lived a full and happy life. She was diagnosed with dementia after her 80th birthday. She was able to stay at home until April 2018 but then had to move to a nursing home. Emmi passed away peacefully on January 18, 2021, shortly after 1:00 pm. She will be dearly missed by her family and friends.
A Celebration of Emmi's Life will be held in the summer under her favourite tree.
In memory of Emmi, a donation to Vankleek Hill Meals on Wheels, PO Box 933, Vankleek Hill, ON K0B 1R0 would be appreciated.
To express your condolences, make a donation or plant a "Tree of Remembrance" for Emmi please visit www.hillcrestfuneralhome.ca
Funeral arrangements in care of Hillcrest Funeral Home